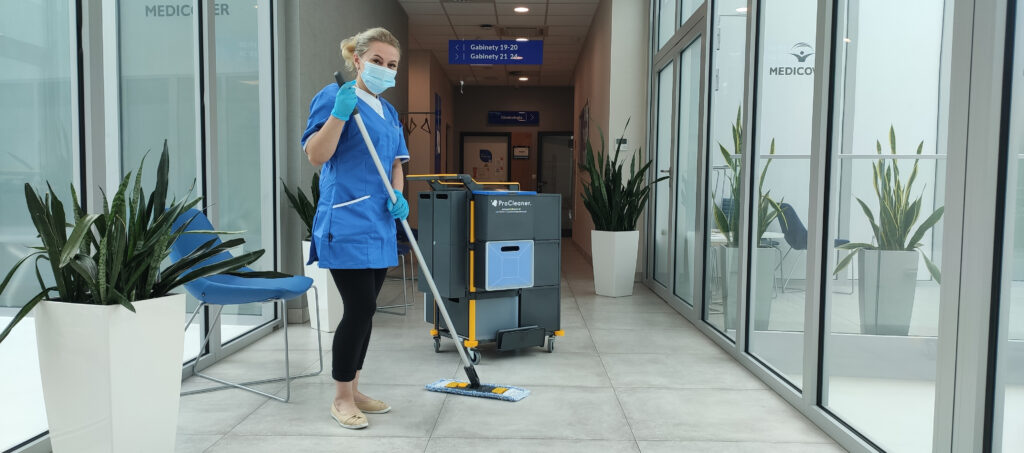 Wraz z rozpoczęciem października uruchomiliśmy nasz pełny serwis dzienny na terenach jednych z największych placówek medycznych w Polsce!
Z dumą możemy pochwalić się kolejnym sukcesem – gwarantujemy nieskazitelną czystość i pełne bezpieczeństwo we Wrocławskich siedzibach największych placówek medycznych w Polsce. Jesteśmy obecni na tak prestiżowych obiektach jak Green Towers, Tarasy Grabiszyńskie czy Globis, a to dopiero początek naszej współpracy.
W ramach obowiązków nasz serwis zapewnia utrzymanie czystości nie tylko w gabinetach i częściach wspólnych, ale również dezynfekujemy i zamgławiamy pomieszczenia. W trudnym, pandemicznym okresie, jest to szczególnie ważne. Placówki medyczne wymagają szczególnej uwagi pod względem sanitarnym, gdzie zdrowie i bezpieczeństwo muszą być gwarantowane. ProCleaner nie boi się wyzwań – wszystkie nasze obowiązki wykonujemy z należytą starannością, zapewniając najwyższą jakość usług.