Nasz zespół profesjonalistów posiada wszelkie umiejętności oraz wyposażony jest w odpowiedni sprzęt do kompleksowego sprzątania obiektów. Zintegrowane świadczenia, które oszczędzają naszym klientom czas i pieniądze, są standardową usługą, dlatego bez trudu zadbany nie tylko o pojedyncze pomieszczenia, ale i całe zespoły budynków. Nasze rozbudowane zaplecze techniczne wyposażone jest w nowoczesny park maszyn oraz magazyn środków czystości. Dostosowując zasoby do specyfiki obiektu i rodzaju zabrudzeń dobieramy sprzęt tak, by nie zabrakło niczego. Odpowiednie normy czystości i bezpieczeństwa oraz zarządzanie jakością usług zapewniają najwyższy standard naszych usług. W ramach kompleksowego sprzątania zadbamy o wszystkie pomieszczenia przemysłowe, magazynowe, biurowe i higieniczno-sanitarne. Obiekty te zostaną przez nas wysprzątane dokładnie i solidnie oraz bez szkody dla środowiska naturalnego. Dbając przede wszystkim o zadowolenie kontrahenta, częstotliwość prac, zakres obowiązków oraz godziny pracy pracowników porządkowych ustalane są indywidualnie z klientem, dopasowując się pod oczekiwania.
The offer includes:
keeping floors clean: sweeping, vacuuming and washing;
cleaning of carpets, carpets and upholstery;
washing facility equipment: furniture, equipment, etc .;
washing windows, glazing and doors;
emptying litter bins;
cleaning toilets.
Cleaning services
Nasze usługi wyróżnia dokładność, sumienność i jakość sprzątania. Sprzątanie świadczymy nie tylko na terenie miasta Wrocław, lecz także innych miejscowości na terenie Polski i Europy. Siedziby firmy mieszczą się również w Szczecinie, Łodzi, Katowicach, Warszawie i Poznaniu. Wieloletnie doświadczenie na wrocławskim i ogólnopolskim rynku firm sprzątających nauczyło nas tego, jak być najlepszymi w tym, co robimy. Dysponujemy odpowiednim zapleczem technicznym, środkami czystości oraz zatrudniamy najlepszy personel sprzątający, aby sprostać nawet najtrudniejszym zabrudzeniom. Jednocześnie zapewniamy sprzątanie przy użyciu ekologicznych środków.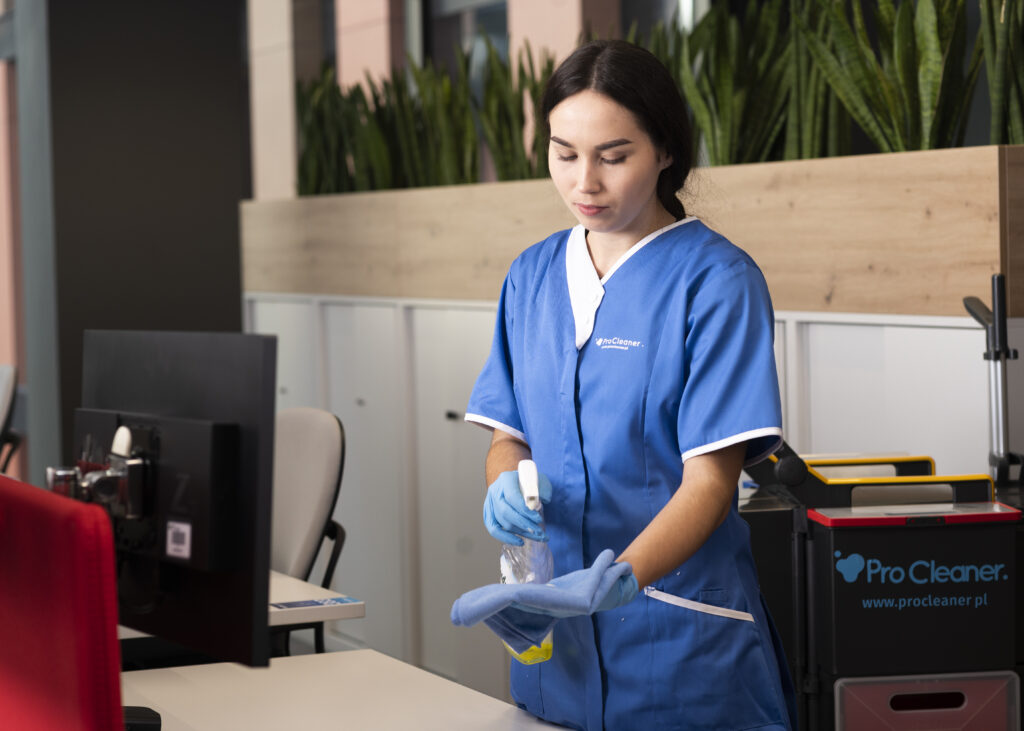 Profesjonalna obsługa klienta oraz wysoka jakość sprzątania wyróżniają nas na rynku. Wieloletnie doświadczenie poświadcza zaufanie, jakim obdarzyli nas dotychczasowi klienci, którzy przekonali się, że ProCleaner jest firmą godną polecenia.Pomieszczenia lśniące czystością oraz zadowolony klient to priorytety naszej firmy. Zapraszamy do skorzystania z naszych usług, które świadczymy na najwyższym poziomie. Wyróżnia nas precyzja oraz dbałość o najdrobniejsze szczegóły. Bardzo szybko można zauważyć, że warto zainwestować więcej, aby uzyskać doskonałą jakość. Oferta obejmuje generalne sprzątanie, od porządkowania pojedynczych pomieszczeń, aż do utrzymania ładu w całych budynkach. Doświadczenie w branży oraz profesjonalne wyposażenie są gwarancją wzorowo wykonanej pracy, która z pewnością zadowoli najbardziej wymagającego klienta.